It's Easy to Find Quick, Convenient, & Affordable Sports Physicals in Tampa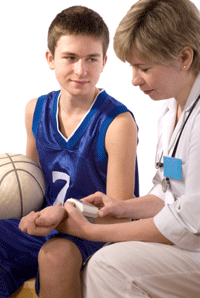 Why wait until the school year starts and the chaos of soccer practices and hectic homework sets in? Hit the ground running by getting your child's sports physicals in Tampa before the season starts at South Tampa Immediate Care.
Most sports, from Pop Warner to high school football, Little League to the middle school track team, require that every child have a clean bill of health before he or she is allowed to participate. Comprehensive sports physicals at our Tampa health clinic include the following:
Medical History – the doctor will ask questions about illnesses in your family, health conditions, injuries, or hospitalizations that your child may have experienced in the past, medications that he or she is currently taking (both prescription and over-the-counter), or any allergies.
Physical Examination – the doctor will evaluate your child's heart and lung function. He or she will also check your child's ears, nose, and throat for signs of infection. A physician will test posture, reflexes, general joint flexibility, blood pressure, and vision.
Not only is it important to get your child's sports physical exam in Tampa before the athletic season begins so that you can stay organized and ahead of schedule, but it's also important in the event that your child needs treatment for an injury or illness. Our Tampa clinic can treat your child so that a full recovery is possible before the first practice or game. Our pediatric urgent care clinic offers physicals for only $30.00 and we're conveniently open 8 a.m. – 10 p.m. on weekdays and 9 a.m. – 5 p.m. on Saturday and Sunday.
At South Tampa Immediate Care, we provide a variety of services, including treatment for sore throats, flu, sinus infections, asthma, allergies, headaches, and broken bones. We also offer flu shots, on-site X-rays, and in-house lab tests for strep, mono, pregnancy, and UTI treatment in Tampa – all available without an appointment. We're conveniently located at 602 S. Howard Avenue, so whether you live in Tampa, St. Petersburg, Plant City, Oldsmar, or anywhere in the surrounding communities, our professional family walk-in clinic is at your disposal.