Medical Director
Kimberly Gibson, MD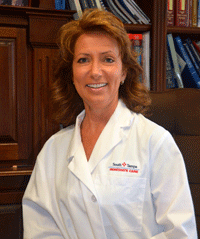 Dr. Gibson, Board Certified in Urgent Care and Internal Medicine, has been practicing and managing urgent care in the Tampa Bay area for more than 13 years.
A native of Parkersburg, West Virginia, she graduated from medical school at the University of Medicine and Dentistry of New Jersey in 1986 and completed her residency in Internal Medicine at Emory Hospitals in Atlanta, Georgia, in 1989.
Following her residency, Dr. Gibson was in private practice in Austell, Georgia, focusing on primary care. In 1994, she became one of the founding physicians of Georgia Baptist Urgent Care in Fayetteville, Georgia.
She was in private practice in Sarasota, Florida, from 1998 – 2001, which included office care as well as ICU care at Sarasota Memorial Hospital.
Dr. Gibson joined Doctor's Walk-in Clinic in Tampa, Florida, as a staff physician in 2002. She was promoted to Medical Director at the Lutz clinic, then to Corporate Medical Director in 2008, overseeing the medical care of 9 clinics and 35 physicians.
In December of 2011 she became Lead Physician for Doctors Express in the Citrus Park area of Tampa Florida, where she saw patients full-time as well as managed the medical and financial aspects of the practice. In November of 2013, Dr. Gibson joined the team at South Tampa Immediate Care as its Medical Director.
Dr. Gibson's passion is education, both for physicians and patients. She currently serves on the Board of Directors for the Urgent Care College of Physicians and is one of the original authors of the Board Certification in Urgent Care Medicine examination, sitting on its Founding Board as well.
When not seeing patients, Dr. Gibson enjoys running, golf, and sailing.