Tips for Staying Safe at the Beach This Summer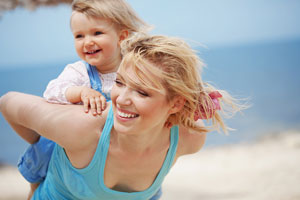 People travel from all over the world to enjoy Florida's beautiful shorelines, and it's important for everyone, even native Floridians, to take precautions against the scorching summer sun. Getting sunburned or dehydrated can quickly take the fun out of a vacation or a day in the sand, so be sure to include the following items in your beach bag:
Sunscreen with SPF 15 or higher
Plenty of cold water
"Cooling foods" like salads, fruits, and veggies
A portable fan
A large beach umbrella
If you plan on being especially active while at the beach, like playing volleyball or jogging, be sure to wear waterproof, sweatproof sunscreen and reapply it throughout the day. Take frequent breaks by sitting in the shade or resting in an air-conditioned environment, and drink plenty of water to stay hydrated. Also, avoid alcoholic beverages, as these can lower the body's tolerance to heat and cause dehydration. If you do decide to drink alcohol at the beach, try to consume at least eight ounces of water for every alcoholic beverage you consume.
For more tips from South Tampa Immediate Care about how to stay healthy this summer, please browse our full list of online health articles. You can also contact us if you have questions about our walk-in clinic or the services we offer.