Family Walk-in Clinic—Immediate Care & No Appointment Necessary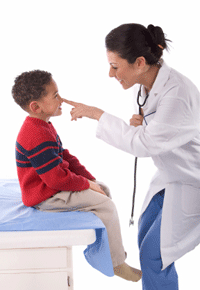 A family walk-in clinic needs to be able to keep up with a family—your family.  That's why our Tampa clinic is suited to the busy schedules of mom, dad, and the kids. South Tampa Immediate Care is open from 8 a.m. – 10 p.m. on weekdays and 9 a.m. – 5 p.m. on weekends, and don't worry—no appointment is necessary.
Aches, pains, injuries, and illnesses can come at any time, any place. That's why a Tampa walk-in clinic needs to be ready when you are. Whether you sprained a wrist at a soccer practice in Brandon, or you have a sore throat from a bug going around the office in Clearwater, the South Tampa Immediate Care walk-in clinic is there for fast service, a fast diagnosis, and fast treatment. If your injury or illness is life-threatening, we'll make sure that you get an emergency room referral to one of the nearby hospitals.
Time and time again, we're the family walk-in clinic with doctors in Tampa that patients trust. Here are just a few of the reasons why:
All of the physicians at our Tampa health clinic are Board Certified or Board Eligible
We are equipped for a range of procedures, including splinting, nebulizer treatment, EKG, injections (non-intravenous), and laceration treatment
In-house lab tests like rapid strep, mono spot, hemocult, and influenza A/B, make diagnosing your illness as fast as possible
Our clinic offers school physicals and sports physicals
We accept a range of health insurance plans, such as Aetna, Blue Cross & Blue Shield, United Healthcare, Humana, Great West, Cigna, Beech Street, Medicare, and Tricare.
Qualified doctors at our Tampa family health clinic are ready to treat sore throats, headaches, ear and eye infections, asthma, allergies, sinus infections, upper respiratory infections, and urinary tract infections
We are located close to three hospitals: Tampa General, Memorial Hospital, and St. Joseph's Hospital
Spontaneous health problems are unpredictable, but your family walk-in clinic shouldn't be. Make urgent care as reliable as possible with the experienced, compassionate staff at South Tampa Immediate Care.